Another set-up to get you thinking about the possibilities ...
I don't have SLE 3.0 bars yet, but made a simple change on some of my older OR bars to allow me to switch, while kiting, from leashed-to-trim-line to leashed-to-single-flying line. With this mod, at riskier launching spots I can start out leashed to a single front line, ride out to safety, park the kite and switch the leash to the trim line / below the bar position where it won't get in the way spinning the bar. Then before coming in, I'll switch back to single flying line so that if things get ugly when landing the kite I can flag it by releasing the chicken loop.
Simple mod, nothing fancy :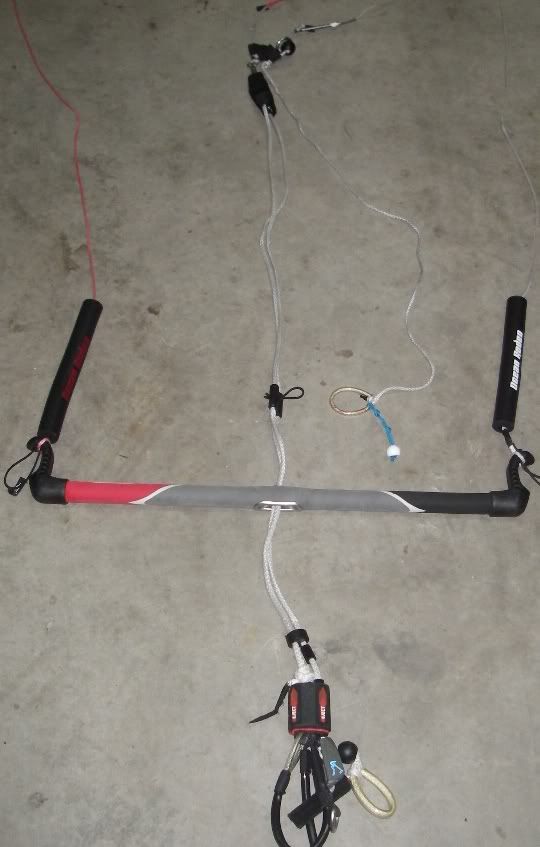 From the leashable front line, I've added an extension with a small tubing loop to about the lowest point I'd ever want the bar stopper to be. When not in use, the extension line is secured at the bar stopper by a stopper ball and a loop of elastic / bungee cord about the same diameter as that used on bar ends to secure wrapped up lines. The bungee cord's stiffness holds it open in a loop about the same size as the ball on the extension line loop. Bungee's attached to the bar stopper by a small hole right in the middle of the bar stopper and overhand knots on the bungee on both sides of the stopper. Close-up of the stopper :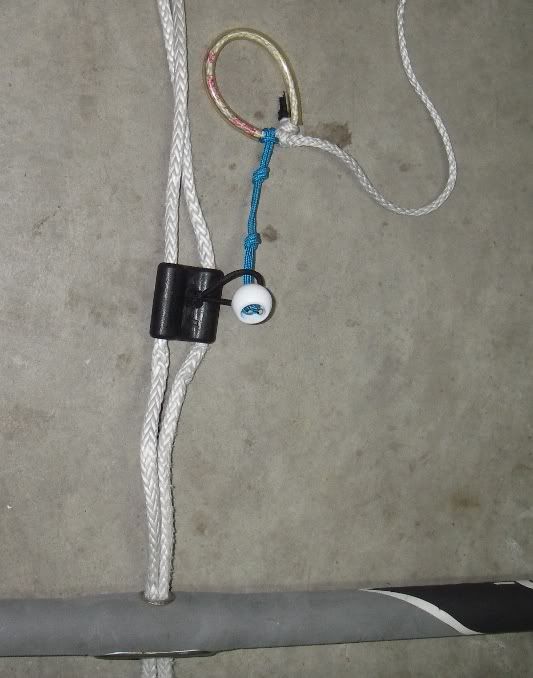 After using this mod for about a year, it works even with cold hands in mitts, granted I still use a brass trigger snap on my leash, not the newer stainless snap that OR has gone to. Once the ball is inside the bungee loop, it stays put, never had it come out on its own, and having a line off the adjustable stopper is handy for pulling the stopper back down if it goes way up the trim line in one of those bar-wrenching big wipe outs.
Yah, not the cleanest set-up, a bit dangly having that extension line up there, but for those crazy days I'd rather suffer a little clutter for the ability to easily flag the kite if need be.